Buddha Bowls are one of my favorite meals at the moment. It can easily be made with the vegetables you have in your fridge or the vegetables that are in season. If you didn't eat Buddha Bowls in 2016. Maybe 2017 is the year where you create lots of colorful Buddha Bowls.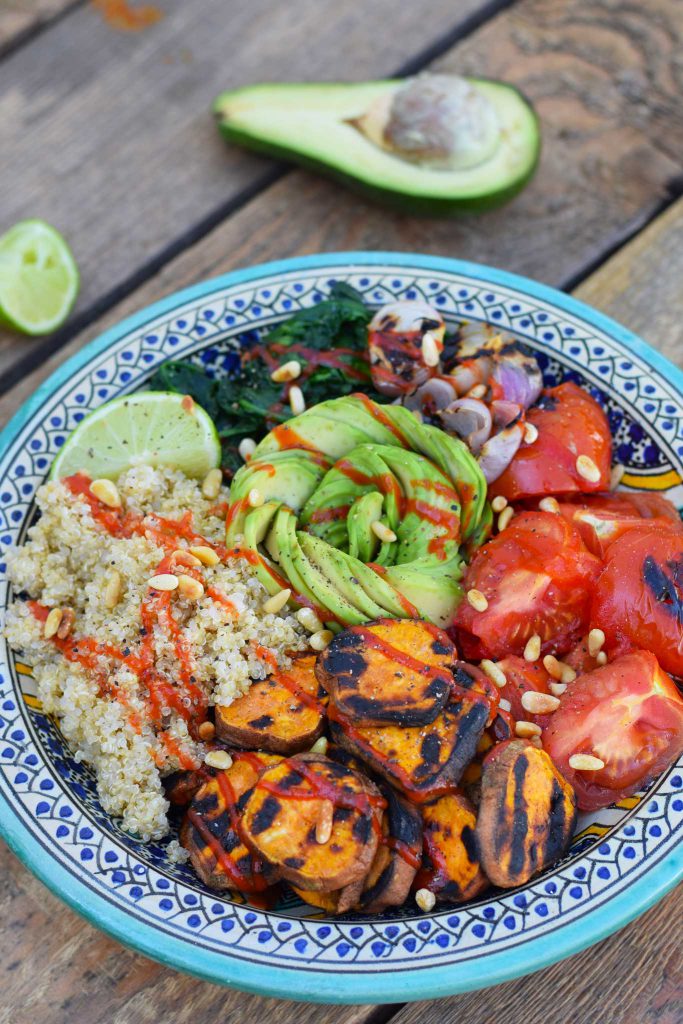 Opskrift til 2 personer
1 cup uncooked quinoa
2 small sweet potatoes
2 tomatoes
1 small red onion
1 cup fresh spinach
1⁄2 avocado
1⁄2 lime
A handful pine nuts
Spicy chilisauce
Black pepper
A bit of sea salt
Olive oil
Boil quinoa with 2 cup of lightly salted water. Wash the sweet potatoes and cut them in slices. Cut the tomatoes and onions rough. Roast the sweet potatoes directly on the grill or on a grill pan, brush with a bit of oil. The sweet potatoes can also be baked in the oven. Roast the tomatoes and onions. Roast fresh spinach on the pan.
Slice the avocado. Make a avocado rose like I have done on the picture.
Place the cooked quinoa, grilled vegetables, avocado rose, pine nuts and squeeze a bit of lime juice over the salat. Drizzle with pepper and salt. Serve with a spicy chili sauce.