Crispy spring rolls with a warm and satiating stuffing of sweet potatoes and red lentils. Served with a creamy tahini dressing. A quick and easy meal to make!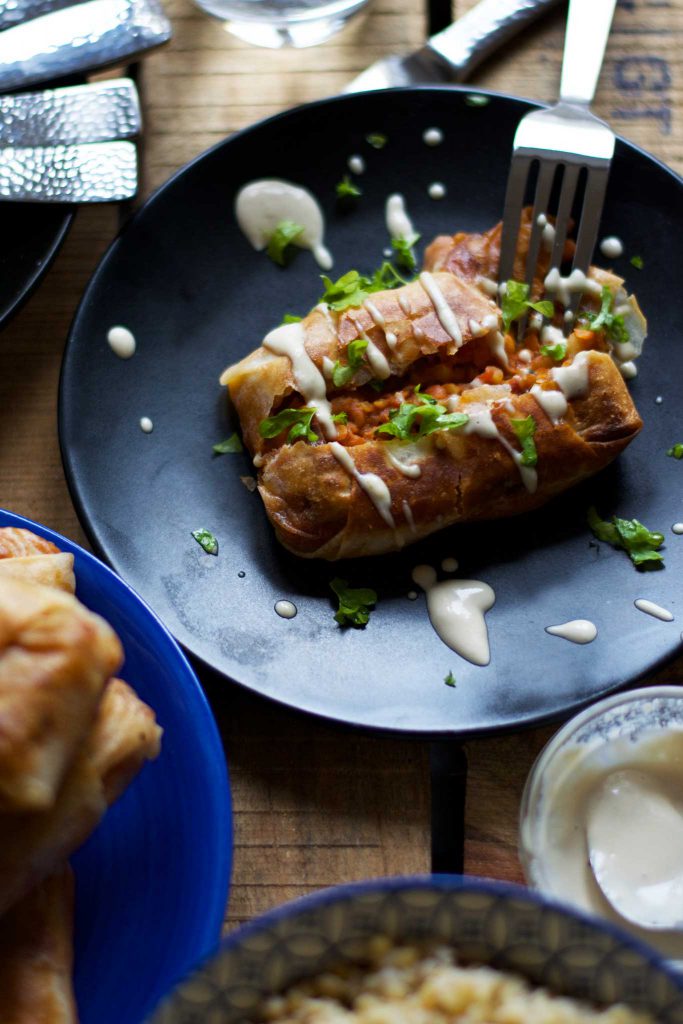 8 spring rolls
1 tsp smoked paprika
1 tsp cumin
1 tsp chili flakes
1 onion
3 cups (400 g) sweet potato
1 cup (100 g) red lentis
1 can (14-ounce/400 g) diced tomatoes
0,84 cup/2 dl water
Sea salt
Frozen spring roll dough
Oil for frying
Tahini dressing
Fresh parsley
Heat a pot with oil and roast the spices. Finely chop the onion and roast them with the spices. Peel sweet potatoes and cut them into cubes. Add the sweet potato cubes in the pot with red lentils. Add the diced tomatoes and water. Let it simmer for about 15 minutes until the sweet potatoes and red lentils are cooked. Add a bit of salt.
Let the stuffing cool of completely before assembling the spring rolls (make the stuffing a couple of hours or a day in advance). Make sure to take the spring roll dough out of the freezer about an hour before use. Cover the dough with a wet cloth. Place a piece of dough on a clean cutting board. Place the stuffing  in the middle of the dough and close the spring rolls. Repeat with all of the stuffing.
Fry the spring rolls on a pan with a bit of oil. Serve them with tahini dressing and finely chopped parsley.
Tahini dressing
3 tbsp tahini
1/2 lemon
about 0,5 cup/1 dl water
A bit of sea salt
Blend tahini and lemon juice. Add a bit of water until the dressing get the wanted consistency. Add a bit of salt if your tahini does not contain salt.
Use the dressing for salad, wraps and other delicious meals.